Casey. Artistic Portraiture. 01/23/09
A relatively warm day. 40F- yay! Let's shoot!
For some reason anything "Retro" - is very inspirational for me. And so - another vintage photo session, this time with Casey. Look at her - how beautiful she is!
Again, same dilemma... Color or Black and White?!
Well, the spring is in the air! I guess this is why I suddenly came to the idea of the photos below.
"Maslenitsa" - is an old Russian tradition of celebrating the Spring coming! This very colorful and joyful holiday is celebrated for 7 days and accompanied by different fun traditions like baking pancakes, snowball fights and masquerades...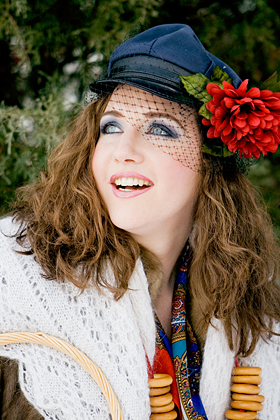 Casey with the Russian "pretzels" :)
The makeup for this photoshoot is done by Maria Lopez. For rates please check the packages page.