Artistic photoshoot at the ruins of Zvartnots temple
There are two big, huge passions in my life - photography and ballet. So during my travel to Armenia, when I learned that there was this great opportunity to work with two ballerinas from the Armenian National Ballet Theater - I was thrilled! Moreover when I imagined all those beautiful places Armenia has to offer for the photo shoot, this idea of working with them became even more predominant than it was before. Meanwhile I had to wait a little bit as the girls were very busy at the Theater, having performances almost every evening, but this only helped me to plan more carefully for the photo session. We have decided to shoot this at the ruins of the one of the most beautiful historic places - the Zvartnots temple, the Armenian Church build in the 7th century under the Byzantine Empire.
But when we got to the temple, which is about 15 km from Yerevan, the capital of Armenia, we realized that the shoot was in serious jeopardy. First the weather suddenly changed, it started raining and became very windy for a while but then the nasty weather left and it became as sunny as before. But we encountered one big obstacle- we were not allowed to photograph at the temple, although as an open air museum it has been always open to public with no limits to photography before.. However, here where the mystical power called "connections" helped us! Connections in Armenia are everything!
So we were granted a right to shoot there for 30 minutes. Yes it was not as much as I originally planned and would have liked to, and wish I had some more time just to walk in the temple exploring it and enjoying its beauty- but I am still happy we were able to take some really incredible shots. So here we go: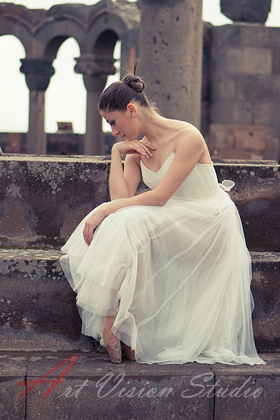 Sure we had lots of fun photographing these:
My favourite!